The magicians of DR4
Gringuito & Gata
Lee "El Gringuito" and Kat "La Gata" from Washington DC USA joined forces to create a riveting dance duo that is known for its passionate, exciting, and innovative style of dancing and teaching. They have been seen on the final episodes of America's Got Talent, Fox Televison, Ambush Makeover, Telemundo and Univision. Through their vast knowledge and experience, the Duo today focuses on the Latin Dances, and more specifically, the dance of Bachata. They have taught more people to dance Bachata in North America than anyone in the World, traveling to over 550 Cities World Wide. The Duo has come together with great momentum in efforts to spread their love for dance with much more to come! Gringuito is the founder of the DC Bachata Congress, currently in it's 3rd Year. As well as over 15 Bachata Meet Up groups nationwide, bringing Bachateros together for the common love of Bachata!
Lee has DJed, taught, performed and or Emceed at the Following Festivals
• DC Salsa Congress 2007, 2008, 2009
• Reno Bachata Festival, Jan 2009, Jan 2010, Jan 2011
• San Fransisco Bachata Festival July 2008
• DC Bachata Congress 2009
• Sexy and Sensual Dance Festival London, UK Oct 2009
• Aventura Dance Cruise Nov Bahamas, Nov 2009
• All Star Salsa Weekend, Cancun, Dec 2009
• 2nd Annual Reno Bachata Festival, Jan 2010
• LA Bachata Festival, Feb 2010
• Tampa Salsa Congress, March 2010
• Aventura Dance Cruise II May 7-10 2010
• Poland Bachata Festival May 21-23 2010
• Finland Bachata Festival June 10-13 2010
• 2nd Annual San Fransisco Bachata Festival July 2010
• 2nd Annual DC Bachata Congress Aug 2010 Organizer
• 10th Annual NYC Salsa Congress 2010
• Todo Bachata Festival Nov 2010 Sevilla Spain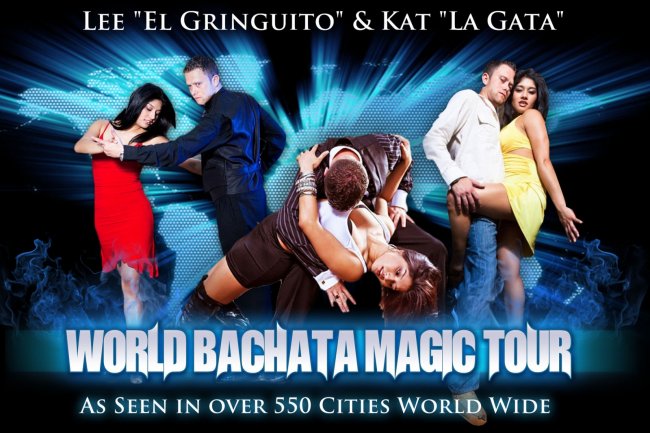 Their most popular workshops
Bachata Foreplay
"The Sexiest Bachata Workshop ever Created"
Get ready to Spice Up Your Bachata like never before with these hot moves. Recognized as "The World's Hottest Bachata workshop: you will learn techniques for Urban Style Bachata. New styles of Bachata have infused Hip Hop, R&B & other styles of music, now learn how to interpret the music like never before! In this class you will learn hot moves for new Bachata Urbana , by such artists as Xtreme, Marcy's Place, Toby Love & Bachata Heightz.
Bachata Tricks, & Combinations
"Get Ready To Add The Element Of Surprise!"
Gringuito & Gata will teach you how to really interpret the music and find the "hits!" Through quick motion techniques, tricks & dips you will take your Bachata dancing to the next level. This "LA Style Flair" can be added at key moments in songs to give that extra "punch." You will learn Bachata Dip, Tango Lift and Dip and Hypnotic Bachata! We will also dicuss safety and common elements among moves. The class will also discuss musicality and understanding Bachata music.
Heating Up the Bachata Dance Floor -
Get ready to learn fundamental patterns and movement that will become the base to your Bachata dancing. Once you have those fundamentals down Gringuito & Gata will teach you learn sexy moves & fundamental patterns that will enhance all styles of Bachata. Before no time you will be steaming up the dance floor with Lee "El Gringuito" & Kat "La Gata's" sexy style of bachata.
Gringuito & Gata's Dominican Footwork Frenzy & Styling
Adding the Dominican Flavor of Bachata to your dancing is essential for any true Bachatero. Get ready to add some amazing Dominican Footwork. Gringuito & Gata will teach you how to incorporate your footwork into partner dancing and solos as well. Get ready for a fun Styling segment & our Guys vs Girls Dominican Footwork Challenge @ the end of the class!
Gringuito & Gata
Partners of the DR4 festival
Gringuito&Gata are the full Partners of Dominican Republic 4th Bachata Festival organized by Bachata Ambassador. Gringuito has created the USA wide Team to do the marketing and to organize the group tours to DR4.
Workshops in the DR4
Gringuito & Gata will teach both autentic Dominican style and the highlights of the other styles to help attendees to see the differences and to create their own personal world bachata styles.
Gringuito&Gata will concentrate on the musicality, timing, footwork and basic elements in the autentic Dominican style bachata. Below you can see their basic elements like box, double step, hand tossing and closed position.
Gringuito&Gata are famous for the Bachata Foreplay. It will be very interesting to see how the non-dominican foreplay will work with dominicans and how Gringuito will finally enhance it for Dominican purposes. Gringuito is the master of "flirting on the floor"dancing.
Certainly you'll see Gringuito&Gata doing real magic, emcee and outstanding presentations.
More information
• Gringuito&Gata pages: LatinDanceMagic
• DC Bachata congress