DR12
Instructors
DR12 has 20 workshops, Bachata Ambassador® and about 12 Dominican instructors (Yocasti, Carlito, Carlos&Susan, Wilson, David, Jean, Melody and Julio with their dance partners) to cover all the aspects of Authentic Bachata (=the way Dominicans dance Bachata) and a bit of Merengue, Tipico, Bolero and Son. In addition we have some lessons of how to play Bongo and Guira. In addition we will introduce new talented dancers, assistants and instructors.
DR12 key instructor: Yocasti
Yocasti from Santo Domingo is the most famous Authentic Bachata (the way Dominicans dance it) instructor in the world. Bachata Ambassador YouTube channel has over 100 videos of Yocasti: Yocasti & Yeri la Ley 2.1 million visitors, another with Yeri 1 million visitors, a brand new Yocasti with Jean Carlos 90 000 visitors. While the other instructors have 2-100 visitors daily, Yocasti has about 5 000 visitors daily.
Yocasti was 2015 the best Salsa dancer in Dominican Republic. She can dance and teach Authentic Bachata, Salsa, Bolero, Son, Cha, Merengue, Tipico, Mambo, Palo, Dembow and natural/authentic concepts of many dances more.
Yocasti can do all the Authentic Bachata styles, e.g. calm, polished, sophisticated and peculiar. She is both the barrio and high class dancer with the knowledge of the cultural rules connected to dominican bachata. Read the Yocasti story and look at the videos.
Yocasti knows the philosophy, cultural aspects, structure, common elements and the styling issues of Authentic Bachata. In the video below she and Bachata Ambassador explains the complicated issues of Authentic Bachata Footwork.
Yocasti does the workshops together with Bachata Ambassador.
DR11 key instructor: Bachata Ambassador
Bachata Ambassador® Vesa is the creator of the professional teaching of Authentic Bachata (=the way Dominicans dance bachata). He is the one who organized the first ever Bachata Festival in Dominican Republic. Vesa has visited Dominican Republic over 35 times during the last 28 years. When he started to plan the DomRep Bachata Festivals there were no schools, instructors or methods to teach bachata. Dominicans learned their bachata naturally. Bachata Ambassador has educated huge amount of Dominicans yo be talented Authentic Bachata intructors. Most of them have got their oportunities to teach all around the world.
Bachata Ambassador has the key knowledge of Authentic Bachata. Bachata Ambassador & Yocasti can actually teach pretty quickly you dance like a Dominican. In addition we teach Bachata history, Bolero and in other events Cha, Merengue and the concepts of Natural and Authentic. Read the whole story and look at the videos of Bachata Ambassador.
DR12 key instructor Carlito Calgano
Carlito from DomRep is the best ever animator. He is absolutely the most talented, most fun, unrivaled genious of animations (=fun activities). He is also an excellent instructor of Authentic Bachata, Merengue, Salsa and Animations. Carlito will be the styling acrobat of DR12. Read the whole story and look at his videos to understand his great talent.


DR12 diamond: Wilson: Play Bongo and Guira
Wilson from Santo Domingo is a professional musician who works with the famous Dominican bachata bands. Wilson is really motivated to do the "How to pla Bongo and Guira" lessons. You can actually learn the basics in 1 hour, but more importantly you'll learn how the music is constructed to hear the instruments in bachata music. Hearing the changes in the music makes you a better bachata dancer.
DR12 diamond instructors Carlos&Susan
Carlos is most probably the best dance instructor in Dominican Republic. Iit's great pleasure to follow his logical, exact and fun teaching. Susan is a perfect co-instructor with Carlos.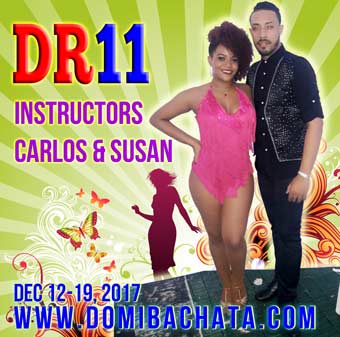 DR12 evergreen talent: Julio
Julio has most probably earned more prizes than any other bachata&salsa dancer in DomRep. Julio is a talented dance instructor but also a really famous comedian. Julio will give us some Merengue workshop and party help in Ruta Bachatera. See more of Julio.
DR12 super star Jean Carlos
Jean Carlos is fully natural Dominican bachata dancer and performer.
DR12 historian: Melody
Melody from DomRep still remembers the early phases of bachata. Therefore she is the eye-witness on how bachata was born and why dominicans are so fond of it. Melody is a professional historia. She will teach together with Bachata Ambassador the early Bachata history. In addition Melody will teach Dominican Son with Hilary. Hilary is an excellent instructor and a well-known sonero in Santo Domingo dance scene.
DR12
Live Bands and Concerts
DR12 has confirmed the first 6 live bands: Felix Cumbe, Julio Reyes, El Chaval, El Mello De La Bachata, Raphy Mi Corillo and Tony Berroa. Closer to the festival we might announce 2-3 live bands more, including at least one of the TOP 5 dominican bachata artists. Notice! our initial promise was at least 5 live bands and now we might double the promise.
DR12 Santo Domingo part of the festival proudly presents the most authentic and exotic bachata concert DOBLETAZO BACHATAZO with Felix Cumbe & Julio Reyes @ Guerra, DomRep on Wednesday December 12, 2018.
DR12 Ruta Bachatera part of the festival proudly presents the most authentic and exotic bachata concert TRIPLETAZO BACHATAZO with El Chaval, El Mello De La Bachata and Raphy Mi Corillo. The concert will be in a small countryside village.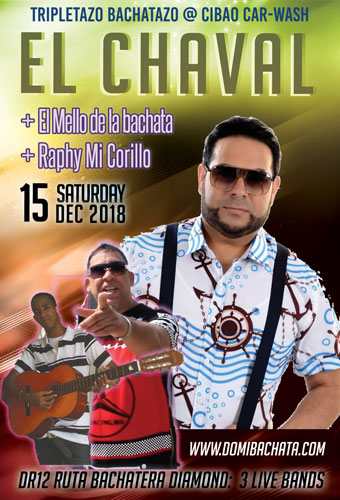 The DR12 Ruta Bachatera last night Monday Dec 17, 2018 star is Tony Berroa in Santiago de los Caballeros barrios, DomRep.
The previous festival DR11 promised 5 but had finally 8 live bachata bands including Anthony Santos, Joe Veras, Frank Reyes, Joan Soriano, Zorro Negro, Tony Berroa, Jose Miguel and a Tipico band. Impressive, wasn't it!
DR9 was crazy lucky to see both Raulin Rodriguez and Anthony Santos.
Look at the fancy concert and excursion flyers of the DR1-2-3-4-5-6-7-8-9-10-11 Bachata Festivals in Dominican Republic. It's an amazing collection, isn't it? Bachata Ambassador® Vesa has done miracles - stunning heroism - showing the real Dominican bachata life to the whole world. That's the reason why the attendees keep returning. Vesa has organized nearly 100 concerts in the best bachata clubs of Dominican Republic.
We have had in our bachata festivals Anthony Santos, Raulin Rodriguez, Luis Vargas, Frank Santos, Joe Veras, Kiko Rodriguez, Joan Soriano, El Chaval, Luis Miguel del Amargue, Yoskar Sarante, Teodoro Reyes, Tony Berroa, El Pequeno de la Bachata, Coronel, Ramon Torres, Marino Castellano, Bolivar Peralta, Andy Santiago, Atabales San Miguel, Zorro Negro, Jose Miguel, Felix Cumbe, Los Ciudadenos, Eudis, Jose Manuel Calderon, Esteban Mariano, Los Hermanos Paula, Edilio Paredes, Kelvin, Adolfo Guerrero, Fenix, Celito, Fanny Hidalgo, Bachata Academy Kids and a long list more.
DR12 club and artist names
DR1-DR10 revealed all the club and artist names. Thereafter, we have changed our publishing policy and actually dominican and international authorities have forced us to abandon the open publishing policy. The reason is easy to understand. In case we announce "50-100 rich tourists" is coming to the certain barrio club, all the criminals of the area is alerted for rob&kill actions. It doesn't help to leave the word "rich" out, because "50-100 tourists" is the same thing for the barrio criminals.
We do not want any tourist (or an international dancer not belonging to our group) to follow us to the barrio clubs. It's too risky to visit the barrio clubs with unsecured transport, no club contact and returning with random rob&kill taxi. Our festival participants have newer had any problem in DR1-DR11 festivals during the last 7 years, because we are a group with secured transpor and because we are under the club management protection.
We do not want to share the same barrio club with other promorers, because too many tourists kill the ambient. The barrio clubs know us very well. We don't want to loose our reputation due to the arrogant other promotors.
We do not want the other international promoters to use the same clubs we use, because they don't have the same level of cultural respect. Too many tourists kill the ambient and might lead closing the bachata club. The barrio clubs know us and they respect us. We don't want to loose our reputation due to the arrogant other promotors.
How can anyone trust DR12 being able to bring 5 or more bachata concerts?
Bachata Ambassador has broaght nearly 100 bachata concerts to DR1-DR11 Festivals. It's 7-14 per festival during the last 7 years. We started and we created the Authentic Bachata Festivals. What else you need to trust us ?? Closer to the festival we will leak some extremely interesting artist information :-)
Funny stories #1
L'Hangar Dec 15, 2017
DR11 openly announced one year ago "Grupo Dinasti @ L'Hangar Friday Dec 15, 2017. Another promoter decided to copy and bring his people to the same place same night. The attendees of other promoter called us asking when we will arrive, but they didn't know that L'Hangar was just a placeholder in our marketing. DR11 participants knew very well that something big was going on and they knew that Bachata Ambassador always does a huge effort to bring the best parties and concerts. DR11 talented Dominican staff with 7 years experience were preparing diligently the Anthony Santos and Joe Veras concerts to that precious Friday Dec 15. Instead of going to the free of charge regular Friday party, DR11 participants went both to Anthony Santos and to Joe Veras concerts. Our festival has always had participants from Europe, Asia, Australia, South-America, Caribbean and North-America. As you can imagine, both Anthony Santos and Joe Veras concerts were diamond dream concerts forall of them. In addtion we got a really interesting Car-Wash with Tipico band. **Ya tu sabes** Bachata Ambassador created Authentic Bachata Festivals! He will be forever the best and invincible in it !!
Funny stories #2
Colmadon @ Zona Colonial Dec14,2017
DR11 announced to have a nice pre-party @ Zona Colonial Colmadon. Three dominican instructors of the other promoter came to spy and ask the address of the Bachata University, the DR11 party place for the same night. Naturally we didn't reveale it! Fortunately we didn't reveale it, because it could have been an extremely dangerous, even life threatening danger to the Bachata University staff, other promoter participants and even to our participants. The Dominican instructors knew that the Bachata University is just a nick-name to a certain Barrio Cabaret, a whore-house where more than 40 ladies work as prostitutes to sell their bodies. I know the tourism serving dominican instructors and the other promoters don't have cultural respect. They can and they certainly will take their cameras to film all the time. That would cause several life-threatening consequences. When the jealous husband. bf or father see in social media his wife/daughter working as a prostitute, you can be sure that she will be cruelly killed. Being aware of this, the staff of the Cabaret can throw the camera attendees out and ansk cucarachas to finalize them. Too many arrogant tourists kill the Cabaret and then we never ever will be able to see the culture of where bachata was born. DR1-DR11 participants always wish to return to Bachata University. Please, keep outsiders away to preserve the Dominican Bachata culture.