DR12 is truly the most
Authentic, Exotic and Fun
DR12 (Dominican Republic 12th Bachata Festival and Dance Adventure) is truly the most authentic, exotic and fun festival in the tropical bachata island DR (Dominican Republic). We have excellent records from the last eleven DR1-DR11 festivals. Participants repeatedly evaluate our festival to offer the best in the world bachata experience. The strongest proof of the quality is that most of the attendees have returned, some up to eight times.
DR12 is a compact 9 Days: Catamaran + Santo Domingo + Ruta Bachatera
DR12 Catamaran 1 day is the most beautiful and desirable dance experience in the whole world. DR12 Santo Domingo 4 days has 20 workshop hours, 12 Dominican instructors and every night barrio parties and concerts in different clubs. DR12 Ruta Bachata 4 days is a private bus to tour around the island to show the best bachata party places and to see the most famous bachata artists. We ended up in 9 days compact package, a collection of the best of the proven to be the best elements.
What to Expect?
First day Catamaran is a full day relax. All inclusive drink and dance! Enjoy the tropical sun with a nice ocean breeze with the most beautiful paradise view. The beach in the flyer is where we go :-) The following 4 days we spend in the World Heritage old town Zona Colonial of Santo Domingo learning Authentic Bachata and dancing every night in a different barrio club with dominicans. The last 4 days we'll go around the island with a private bus to see the most famous bachata artistsm rural bachata clubs, rivers and mountains.
DR12 is focused on Authentic Bachata®
DR12 is focused on the way Dominicans dance bachata (=Authentic Bachata®). In addition we teach the other Dominican genres (Merengue, Tipico, Son, Bolero, etc.) to survive the parties with locals. We won't teach International Bachata, Kizomba or any other international dances, because they are not danced in the Dominican local clubs. The goal is to learn to dance like a Dominican and to dance with Dominicans in their clubs around the island.
Instructors, workshops and knowledge
The instructor team includes Bachata Ambassador® and about 12 Dominican instructors to teach you how to dance like a Dominican (=Authentic Bachata®). Obviously the Dominican professional instructors know the best how Dominicans dance. You will certainly learn to dance like a Dominican. We are the founders of Authentic Bachata® professional teaching and our instructors have in total over 300 years experience in dancing bachata like a Dominican.
DR12 festival outline in brief
DR12 Santo Domingo part of the festival

Dec 10: Monday
Dec 11: Tuesday
Dec 12: Wednesday
Dec 13: Thursday
Dec 14: Friday

Catamaran Excursion to Saona Island
Workshops, Party @ Zona Colonial
Workshops, Party&Concert @ Barrios
Workshops, Party @ Cabaret
Workshops, Concerts @ Barrio

DR12 Ruta Bachatera part of the festival

Dec 15: Saturday
Dec 16: Sunday
Dec 17: Monday
Dec 18: Tuesday

Private bus, Colmadon, Concert
River Madness, Concert
Divas shopping, concert @ barrio
Returning back to Santo Domingo
DR12 club and artist names
DR1-DR10 revealed all the club and artist names with unpleasant and even dangerous consequences. The Dominican and International Authorities have instructed us NOT to make all information public. We have had 7-14 famous live bands in each of the 11 festivals. DR1..DR11 festivals, read more. E.g. DR11 promised 5 but had 8 concerts including Anthony Santos, Joe Veras, Frank Reyes, Joan Soriano, Zorro Negro, Tony Berroa, Jose Miguel and a Tipico band. DR12 promises 5, but will deliver more because we always keep our promises with the power of our invincible Dominican team.
We have already published 6 live bands and we might end up in 8-10 !!! Impressive, isn't it?
Beginners, adventurers and advanced
DR12 is meant for beginners, adventurers and advanced dancers. Statistically most of the attendees have been beginners and even being advanced dancer does not mean being advanced in Authentic Bachata. Authentic Bachatais a new dance for everyone with totally different rules compared to the dance school dances. We will have time to teach excellent basics and at the same time quick learners will end up in an advanced level. The festival suits well for adventurers who want to concentrate on the diverse party life with Dominicans.
Bachata Ambassador® Innovations
Bachata Ambassador® Vesa is the creator of Authentic Bachata® (the professional way to teach how Dominicans dance Bachata). Vesa was the first one to introduce the philosophy, culture, structure, common practices, magical box and the other elements of Authentic Bachata. Later on he added the concepts of natural, route, adaptation, energy, dominican musicality and the studies of the relative importance of each element. Vesa has created also the concepts Ruta Bachatera, BachataTour, Fine Tuning, Extended Bachata Roots, Rewritten Bachata History, BonfireBachata and Learning to Play Bongo & Guira.
Fine Tuning
Fine Tuning is one of the brilliant ideas of Bachata Ambassador. It's based on four phase repeating: to understand, to polish, to practice and to graduate. You can understand and "learn" the magic box in 1 hour. However you need to repeat and polish it to look like Dominican. DR12 Fine Tuning means repeating, details, fine adjustment and styling the simple looking fundamental movements. Finally you graduate by dancing with random Dominicans. Interesting, isn't it?
Fun Activities (=Animations)
DR12 is a PERFECT COMBINATION of the best WORKSHOPS counterbalanced by CRAZY BEACH, CATAMARAN AND CITY ANIMATIONS (=Fun Activities) finalized by the most wanted CONCERTS AND NIGHT PARTIES. We have the best ever animator Carlito and also Yocasti, and Julio to make sure you'll have wonderful active time on the Catamaran, Saona Island, Zona Colonial and Ruta Bachatera.
Alone, in pairs or in a group?
Statistically most of the attendees come alone. You don't need a dance partner, because we rotate the attendees in the workshops. The clubs we visit have thousands of Dominicans. Therefore you will have enough chances do dance with dominicans, instructors and with the other participants. DR12 is meant for everyone. We don't have age and skill limitations. DR12 is not a dance competition camp for divas. It's a dance adventure to learn Dominican dance culture and to live the Dominican party life.
DR12 is a must
Dominican Republic (DR) is the home of bachata where virtually everyone dances Bachata. The country is full of talented bachata singers and live bands. This is your opportunity to be inside bachata - to feel, smell and experience it - and to live the real bachata life. DR12 combines the best knowledge and the crazy Dominican dance culture. Welcome to have Dominican fun :-)
DR12 is exotic, fun and scientific
Dance Festivals and congresses tend to be one-dimensional copies of each others repeating the same (many times boring) patterns. DR12 is totally different and unique. It is the only festival that takes participants out of the resort to attend concerts and parties in the local venues to see thousands of Dominicans who have never taken any dance classes but still dance better than westerners. DR12 is tropical, exotic, fun and even crazy. However we take the workshops seriously and we maintain the highest professional knowledge of Authentic Bachata. Some of our instructors are scientist, some historians, engineers, film stars, TV stars, comedian or just crazy jungle dancers.
DR12 has it all !!
DR12 has a full spectrum of Dominican dances and more importantly the real party life all over the tropical island. DR12 is unrivaled trip to bachata paradise. No other promoter or organizer will offer you 5-8 concerts&parties, every night in a different club around DomRep with thousands of Dominicans and the best knowledge on how to teach you to dance like a Dominican and give profound lessons of Dominican dance history and culture. You'll see colmadon, car-wash, cabaret, river madness, rural places and of course also the best bachata clubs. DR12 is a must to see, best in the world bachata congress as the previous festival attendees say.
DR12 means the most advanced workshops, huge concerts, famous artists, special ambient, dine&dance, gourmet, colonial beauty, colonial history, redifining bachata history, bachata barrios, car-wash, sport bar, cabaret, street bachata, colmadon, river madness and beach fun. DR12 brings you the cross-section of Dominican dance culture in the axis regular/ advanced dancers, poor/rich, picapollo/gourmet, colonial beauty/ barrial and a lot of things you don't even know to exist.
Bachata Business Rules in DR
DR3, DR4, DR5, DR7, DR8, DR9 and DR11 went smoothly. We didn't have any problem of whatsoever. Maybe we were just lucky or maybe the festivals were perfectly planned. However, we have to take into consideration that Dominican Republic does not follow all the international rules of business. Some of the Dominican bachata artists, party places and instructors have been known to break the signed and paid legal agreements. Due to these problems DR12 clearly states that nothing can be guaranteed and changes from the published schedule will occur. The changes and cancellations do not entitle ticket holders to any discounts or refunds. In the past when cancellations occurred we have always found excellent replacements.
DR12 is an amazing
Dance Adventure in Tropics
DR12 is a Tropical Dance Adventure in the Bachata Paradise Island of Dominican Republic. Unbelievable experiences, Catamaran Excursion to Saona island, jungle river, barrio parties, the charm of Zona Colonial and the Ruta Bachatera tour around the island. DR12 has 9 days, every night a party in different club, 5-8 parties/ concerts with thousands of Dominicans. You'll dance in a Colmadon, Car-Wash, Sport Bar, Club, Discoteca, Night Club in Santo Domingo, rivers, mountains, beaches, countryside, pueblos and barrios. DR12 is unique and fully Dominican! It would be a shame to fly to Dominican Republic just to see an international resort hotel and never go outside the hotel to experience the real party life with Dominicans. DR12 accommodation is not in a resort hotel. We have more interesting authentic and exotic accommodations all around DomReP.
Catamaran to Saona Island
Catamaran Excursion to Saona Island has always been the best ever, life long tropical bachata paradise experience. We have done it already 8 times. It's a must! The price includes lunch, drinks, charter bus, catamaran, Saona island, ocean pool, fun activities/ animations and endless amount of dancing. The best of all is dancing, swimming and partying on catamaran, Saona and everywhere with dance crazy people. The best ever animators Carlito and Yocasti will make sure you have fun time.
Fula River Madness
Fula River Excursion has always been one of the most authentic, exotic, inspirative and craziest experience in the festival.
Fula has amazing party river with the jungle talents David, Jean Carlos and Yeri la Ley.
Enjoy the memories
Social media and Youtube is full of previous DR festival photos and videos. Look e.g. Bachata Ambassador Vesa Youtube channel. Look also the photos in the Facebook groups of DR11, DR9&10, DR8 and DR6. Below you can see DR6 memories trailer.
DR12 is organized by
DR12 is organized by Bachata Ambassador® Vesa, full description here Bachata Ambassador.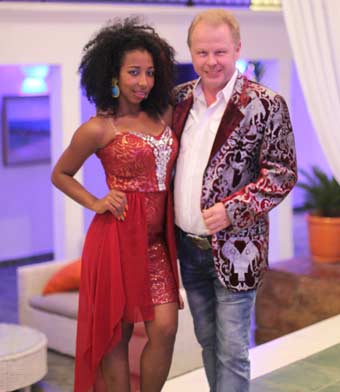 Cooperating with DR12
Have you dreamed in organizing your own event in Dominican Republic? Now you can do it, easily and risk free. The simplest way is to bring your people to DR12 and earn commissions. In case you have a dance school, consider doing the Dec 7-9, 2018 weekend together with us. Contact DR12 organizer

to get started. Co-operation is fun and easy!
DR12 is not a standard event
Nearly all of the bachata and dance festivals in the world are organized by dance schools. It's a big limitation because the dance schools have to promote their own services and by default they offer "dance school generated dancing techniques and dance school oriented dance parties". Fortunately DR12 is not limited to dance schools and dance school parties. DR12 workshops teach how all the Dominicans dance and we bring attendees to all kind of party places. DR12 does not suffer the competition issues, because there aren't any other festival similar to DR12 or competing with DR12.
Pay attention to Trademarks !!!
Bachata Ambassador® is a registered trademark owned by Mr. Vesa Parkkari from Finland. It's a title given by Dominican press 2006 when Vesa did heroic act by being the first one to organize a huge bachata concerts in Northern Europe. Vesa organized the second bachata festival in the whole world 2008 and the first ever Bachata Festival in Dominican Republic 2011. Now, after organizing 7 festivals in Europe and hiring over 80 Dominican live bands and artists, he is ready to present the most precious work of art: DR12 (Dominican Republic 12th Bachata Festival and Dance Adventure Dec 10-18, 2018).
Vesa has done diplomatic bachata tasks and planned together with the Dominican press, TV, associations, artists and instructors the Dominican bachata worldwide expansion. Vesa is truly an Ambassador and due to registered trademark he is and he will be the only Bachata Ambassador® ever.
Vesa registered Authentic Bachata® to protect it to mean "the way Dominicans dance bachata". The word BACHATA means internationally too many things and needs a qualifier to specify the exact dance genre. Dominican Bachata and DR Bachata would be nice words, but unfortunately they are misleading due to heavy misuse of the international bachata instructors. Vesa introduced 2009 "The Real Dominican Style Bachata" to pinpoint the misuse and to prove the existence of "the way Dominicans dance bachata" being a dance genre of it's own. Later on Vesa abandoned the provocative title Real Bachata, because Authentic is more accurate and positive expression. Traditional bachata might be a good title but it might give a false impression of the dominican bachata styles used only in 60's and 70's. We should protect the Dominican culture. Let the way Dominicans dance Bachata to be Authentic Bachata®.
Bachata Ambassador® Vesa recommends to use the Authentic Bachata® title only if you are sure to mean "the way Dominicans dance bachata". However the registered trademarks are copyrighted and protected by law. Please, ask the permission from Vesa or choose some other title if you want to use Authentic Bachata heavily. Also the Domain Names www.domibachata.com and www.bachata.com.do are registered by Vesa.
Bachata Ambassador Vesa AWARDS
Vesa has been awarded by La Romana City Council, La Guerra Town Hall and Paraiso Musical. Being able to organize and bring festival participants to nearly 100 concerts is big achievement and has been noticed in several cities in Dominican Republic.